Greenback gains on euro, yen
August 22, 2008
Greenback gains on euro, yen
Story link: Greenback gains on euro, yen
TAGS: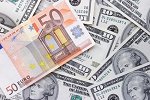 The US dollar saw gains against the euro and the yen Friday, helped by comments from Federal Reserve Chairman Ben Bernanke that while it remains "uncertain" just what will happen with inflation in the US, declines in commodities prices, slower economic growth, and a stable dollar will likely limit inflation.

Another aid to the greenback was a report that Korea Development Bank, owned by the South Korean government, could be interested in buying Lehman Brothers (NYSE: LEH).

Meanwhile, the euro was hurt by new data showing that industrial orders in the Eurozone are down 7.4 percent from last year.

In late morning trade in New York the dollar traded at $1.4795 to the euro while it took ¥109.9600 to buy a dollar and the yen also declined in relation to the euro, to ¥162.6911.

The yen was also weaker against the South African rand and the Brazilian real as investors returned to purchases of higher-yielding currencies on the news about possible Korean interest in Lehman Brothers.

Not long before noon in New York, the yen traded at ¥14.357 to the rand and at ¥68.038 to the real.

The pound was weaker versus the US dollar and the euro on new data showing that the UK economy did not grow at all in the second quarter, adding to the case for an interest rate cut by the Bank of England.

At late morning in New York the pound traded at 79.79 to the euro, while it took $1.8588 to buy a pound.

It was the fifth week in a row that the pound weakened versus the greenback.
Latest News:
Daily Market Updates
Major Currency Forecasts

Currency Pairs