USD declines against emerging market currencies
September 19, 2008
USD declines against emerging market currencies
Story link: USD declines against emerging market currencies
TAGS: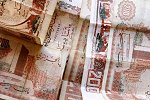 Currency moves Friday were driven by plans and anticipation of more plans by the US to rush legislation through Congress that is designed to shore up confidence in the financial markets.

Among the plans announced was one from the US Treasury Department to use up to $50 billion from the Exchange Stabilization Fund, a fund first created in 1934 to stabilize the exchange value of the dollar, to insure money-market fund holdings in case of a collapse in financial markets.

Treasury Secretary Henry Paulson said that he was prepared to work over the weekend on plans to buy up bad mortgages and other debt in what was characterized as the largest government intervention in US markets since the Great Depression of the 1930s.

The US dollar gained on a generally weaker yen, which was hurt by more risk appetite generated by huge gains in global equities markets, but the greenback declined against many other currencies, especially from emerging markets.

In late morning trade in New York, it took ¥106.845 to buy a dollar while the dollar had dropped to $1,4436 to the euro.

The Korean won traded at W1.139 to the dollar, the Indian rupee stood at Rs45.445 to the greenback and the Mexican peso traded at Mex$10.601 to the US currency while the Brazilian real traded at R$1.8930 to the dollar and the South African rand was at $7.9425 to the greenback.

The euro gained on the yen, to ¥154.2467 while the Australian dollar was worth ¥88.5211 and the New Zealand dollar cost ¥73.445.

The Swiss franc was also hurt by a return to interest in higher-yielding currencies, trading at SFr1.1058 to the US dollar and at SFr1.5965 to the euro in late morning trade in New York.
Latest News:
Daily Market Updates
Major Currency Forecasts

Currency Pairs