Yen lower on new US plan
February 18, 2009
Yen lower on new US plan
Story link: Yen lower on new US plan
TAGS: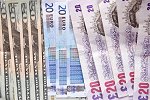 The US dollar gained on the yen and the euro on Wednesday on a new plan from the administration of US President Barack Obama that is designed to slow the number of home foreclosures in the United States.

The plan, worth $75 billion, is aimed a helping millions of US homeowners to refinance loans with Fannie Mae (NYSE: FNM) and Freddie Mac (NYSE: FRE).

The yen also declined versus the euro and the Australian dollar on the possibility that a success for the Obama plan will reduce demand for the yen as a safe investment.

By nearly noon in New York, the yen traded at ¥93.835 to the US dollar, at ¥117.5877 to the euro and at ¥59.8628 to the Aussie while the greenback was at $1.2531 to the euro.

The euro was hurt by the chance that the recession could hurt banks in the Eurozone.

Meanwhile, the Canadian dollar gained on its US counterpart on hopes that the Obama plan to reduce home foreclosures will revive investor interest in risky currency investments by helping the US economy toward recovery.

In late morning trade in New York the loonie traded at C$1.2596 to the US dollar.
Latest News:
Daily Market Updates
Major Currency Forecasts

Currency Pairs