Norwegian Krone Update - Oil Price Wobble Hits Krone
February 9, 2011 - Written by John Cameron
STORY LINK Norwegian Krone Update - Oil Price Wobble Hits Krone
Statoil, the Norwegian oil and gas producer has announced a net profit figure of NOK9.7Bn for quarter 4, 2010. This represents a year-on-year rise of 37%. At first glance, this appears to be a healthy improvement, however oil analysts had predicted that the figure would come out at NOK12.12Bn, so in relative terms it proved to be a disappointment. The increase in profits was driven by the rally in oil prices in the second half of 2010 rather than any increase in output or efficiency savings. Worryingly for the Krone, Statoil also announced that it was reducing production targets for 2011 due to technical problems.
Yesterday's wobble in wholesale crude oil caused some softening of the Krone. China's interest hike briefly dampened demand for growth-dependent assets including oil and the price of a barrel of crude was 1.5% down at one point during the afternoon session. However, crude has recovered lost ground today to stand 1% up just before the European close. It seems that the upward trend in energy prices is set to continue with many analysts predicting that a barrel of crude will touch $100 before the end of quarter 2 this year. This gives grounds for optimism for renewed Krone strength in coming months.
On a less positive note, Norwegian Finance Minister Sigbjoern Johnsen stated yesterday that Norway was unlikely to raise interest rates from their current level of 2% in the short term. He suggested that any tightening of monetary policy would be delayed for fear of the effect an even stronger Krone would have on domestic exporters. He also stated that increases in government spending were likely to be limited for the foreseeable future in order to keep inflation in check. These comments seem likely to weigh heavily on the Krone in coming months, particularly if neighbouring economies embark on a rate-increasing cycle.
International Money Transfer? Ask our resident FX expert a money transfer question or try John's new, free, no-obligation personal service! ,where he helps every step of the way, ensuring you get the best exchange rates on your currency requirements.
Comments are currrently disabled
Related Stories:
Latest News:
Daily Market Updates
Major Currency Forecasts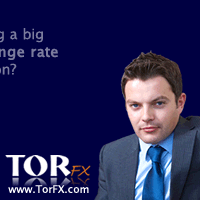 Currency Pairs