Foreign Exchange Rates: Currency Predictions - GBP, EUR, USD, NZD, JPY, ZAR
February 22, 2011 - Written by John Cameron
STORY LINK Foreign Exchange Rates: Currency Predictions - GBP, EUR, USD, NZD, JPY, ZAR
POUND STERLING
The Pound continues to trade sideways against other majors as investors wait for tomorrow's Bank of England Minutes of the February MPC meeting to be released. If the minutes show that only two MPC members voted for a rate hike at the last meeting, the Pound may lose ground. If four members favoured a tightening of monetary policy, Sterling is expected to strengthen. NEAR-TERM OUTLOOK – NEUTRAL.
EURO
ECB Governing Council member, Yves Mersch, suggested earlier today that Europe's central bank may be forced to hike interest rates at its next meeting on 3rd March, due to increasing inflationary pressures in the Eurozone. This provided some much-needed support for the Euro, which lost ground earlier in the day as fears over European sovereign debts caused a move out of the Euro as part of the global flight to safety. NEAR-TERM OUTLOOK – NEUTRAL TO NEGATIVE.
USD
The Dollar made significant gains in early trading today as Asian and European stocks opened lower due to risk aversion in the markets. The dip in risk appetite was driven by continuing unrest in various Arab states left hundreds dead in Libya. Fears persist in the markets that political contagion could spread to key oil producers Saudi Arabia and Iran. This afternoon's US Consumer Confidence survey for February came out better than expected, buoying risk sentiment and causing the Dollar to weaken off slightly. NEAR-TERM OUTLOOK – POSITIVE.
NEW ZEALAND DOLLAR
A terrible day for those with interests in New Zealand saw the second city of Christchurch decimated by a powerful earthquake which has killed 65 people and left another 200 trapped under rubble. A state of emergency has been declared by the City's mayor. The Kiwi Dollar has lost significant ground in the markets due to the earthquake, and was further hit by the swing in risk sentiment which has occurred in the last 48 hours as investors shifted their funds into safe-haven currencies over fears of an escalation of protests in Arab states. NEAR-TERM OUTLOOK – NEGATIVE.
JAPAN
Japan's national debt was downgraded from 'stable' to 'negative' by leading Ratings Agency, Moody's. Japan currently has the largest national debt of any industrialised nation in the world. Ironically, the Yen strengthened on the news as appetite for risk dropped off across Asia. Fears that the Arab political crisis may spread also caused risk aversion, causing Asian stocks to plummet and benefitting the Yen further. NEAR-TERM OUTLOOK – NEUTRAL TO POSITIVE.
SOUTH AFRICAN RAND
The Rand endured a mixed day on the currency markets today. South African stocks and bonds slumped as oil prices touched 2-year highs on fears over the political situation in the Arab world. The Rand suffered heavy losses as risk aversion reigned, at one point trading over 1% down against the US Dollar. However, the Rand made a spectacular late recovery as the quarter 4 growth report showed that the South African economic growth jumped 4.4% compared to the third quarter. Such a positive growth figure may make it difficult for South African policy-makers to achieve the weaker Rand which they desire. NEAR-TERM OUTLOOK – NEUTRAL.
International Money Transfer? Ask our resident FX expert a money transfer question or try John's new, free, no-obligation personal service! ,where he helps every step of the way, ensuring you get the best exchange rates on your currency requirements.
TAGS: American Dollar Forecasts Currency Predictions Euro Forecasts Japanese Yen Forecasts New Zealand Dollar Forecasts Pound Dollar Forecasts Pound Euro Forecasts Pound New Zealand Dollar Forecasts Pound Rand Forecasts Pound Sterling Forecasts Pound Yen Forecasts South African Rand Forecasts
Comments are currrently disabled
Related Stories:
Latest News:
Daily Market Updates
Major Currency Forecasts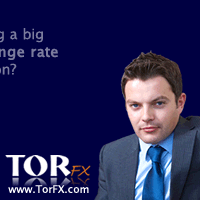 Currency Pairs