Pound Dollar Exchange Rate Hits 8-Month High As US GDP Figure Disappoints
30 Apr 2012 at 9 AM - Written by John Cameron
STORY LINK Pound Dollar Exchange Rate Hits 8-Month High As US GDP Figure Disappoints
Last week's session in the currency markets drew to a close with the release of several market-moving data sets from the world's leading economies.
Perhaps the most significant amongst these was Friday afternoon's US GDP growth data, which revealed a marked slowdown in the rate at which the world's leading economy is expanding. The figure showed that American GDP expanded by an annualised 2.2% in the first 3 months of 2012 – significantly down from the 3.0% rate which it grew at in Q4 of 2011 and well below the 2.5% which analysts had expected. Economists suggested that the disappointing reading had been caused by businesses postponing internal investment due to ongoing concerns over the global economic climate.
Ordinarily, such a concerning data release would be expected to cause sustained safe haven support for the Greenback, however, Friday's growth figure had the opposite effect, taking the Dollar lower against nearly all of the other majors and causing the GBP USD exchange rate to hit 1.6281, its highest level since the end of August, 2011. This move suggests that the US data caused institutional investors to price-in an increased likelihood of the Federal Reserve announcing a third tranche of Quantitative Easing later in the year, as concerns grow over the ongoing strength of America's economic recovery. This was borne out by healthy gains for global stock markets in the aftermath of the US GDP number.
Elsewhere, there was further bad news for the under-pressure euro, following the release of German, French and Italian Retail Sales numbers which revealed that shop sales in the three leading eurozone states had dropped to their lowest levels for four years. Meanwhile, Spanish unemployment figures showed that joblessness in the debt-addled Iberian state had reached a massive 24.4%. With the full effect of swinging austerity measures, introduced by the country's centre-right government, still to be fully felt, things could get much much worse for Spain before they get better.
Buying Property Abroad? Ask our resident FX expert a money transfer question or try John's new, free, no-obligation personal service! ,where he helps every step of the way, ensuring you get the best exchange rates on your currency requirements.
TAGS: American Dollar Forecasts Daily Currency Updates Dollar Pound Forecasts Euro Forecasts Euro Pound Forecasts Pound Dollar Forecasts Pound Euro Forecasts Pound Sterling Forecasts
Comments are currrently disabled
Related Stories:
Latest News:
Daily Market Updates
Major Currency Forecasts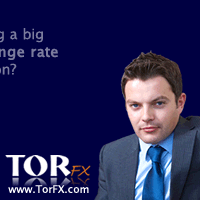 Currency Pairs