Pound Euro Exchange Rate Could Head Higher On ECB President Monti's Comments
6 Aug 2012 at 10 AM - Written by John Cameron
STORY LINK Pound Euro Exchange Rate Could Head Higher On ECB President Monti's Comments
As this week's session begins, the euro and global stock markets are trading slightly lower. The downward move for equities comes in spite of last Friday afternoon's highly positive US Non-Farm Payrolls data, which showed that job creation in the world's leading economy far outstripped expectations last month. The wobble in global appetite for risk came following words from the European Central Bank's President Mario Monti over the weekend, which suggested that all was not well in the single economic area. Monti observed that there was evidence of "psychological dissolution,"amongst the seventeen member states of the eurozone. Once again, it appears that the dichotomy between wealthier northern nations and Europe's debt-burdened Southern states is rearing its ugly head. This spells bad news for investors holding euro-denominated assets.
Today brings a quiet day for data releases; perhaps the most pertinent number due out comes in the next few minutes, with the latest Sentix whole-of-eurozone investor confidence survey. If it shows at below the expected -31 level, then matters could get worse for the single currency. The Pound Euro (GBP EUR) exchange rate stands at 1.2608, but the current set-up appears to suggest that there is potential for upside later as the week progresses.
Elsewhere, the US Dollar has enjoyed support in early trading today. The Greenback is benefitting from the wobble in global share markets, sending the Pound Dollar (GBP USD) exchange rate down to 1.5554. The next key risk event of note comes early tomorrow morning, with the Reserve Bank of Australia's latest policy decision. If the accompanying statement for the RBA contains more gloomy projections, then the GBP USD rate could take a tumble.
Buying Property Abroad? Ask our resident FX expert a money transfer question or try John's new, free, no-obligation personal service! ,where he helps every step of the way, ensuring you get the best exchange rates on your currency requirements.
TAGS: American Dollar Forecasts Dollar Pound Forecasts Euro Forecasts Euro Pound Forecasts Pound Dollar Forecasts Pound Euro Forecasts Pound Sterling Forecasts
Comments are currrently disabled
Related Stories:
Latest News:
Daily Market Updates
Major Currency Forecasts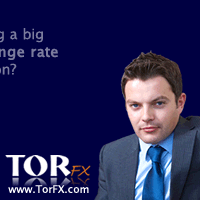 Currency Pairs