Exchange Rates Today - GBP/AUD & GBP/NZD Rate Dip on Positive Australian Data
9 Aug 2012 at 10 AM - Written by Frank Davies
STORY LINK Exchange Rates Today - GBP/AUD & GBP/NZD Rate Dip on Positive Australian Data
Last night's major risk events of note came in the form of the latest New Zealand and Australian employment figures. The headline Australian figure showed that the domestic rate of unemployment had unexpectedly dipped from 5.3% to 5.2% last month. The release proved supportive for the Aussie Dollar, sending the GBP AUD exchange rate down to 1.4764 during the European close. Meanwhile, the New Zealand job numbers came out slightly worse than expected, showing a slight quarterly contraction of 0.1% in the overall rate of employment in the three months to the end of June. The market's initial response to the antipodean numbers was to send the GBP NZD exchange rate to close to the 1.9300 level during the Asian session, however the pair eased back as the opening of the European session approached, thanks in part to the positive Australian labour market figure.
The downward movement for both the GBP NZD and GBP AUD exchange rates overnight was also precipitated by investors' continued reaction to yesterday's downgrading of the UK economy's 2012 growth forecast to zero percent by the Bank of England.
The other noteworthy data release last night emanated from China, with the latest domestic inflation figures. The numbers showed that the rate of price rises in the giant Asian economy had dipped to its lowest level in two and a half years in July. The data provides Chinese policymakers with scope to effect further stimulatory monetary policy measures – a fact which has served to reassure equities markets in early trading today. The uptick in global appetite for risk has benefitted the US Dollar in early trading today and this is likely to continue for as long as shares trade into positive territory.
Buying Property Abroad? Ask our resident FX expert a money transfer question or try John's new, free, no-obligation personal service! ,where he helps every step of the way, ensuring you get the best exchange rates on your currency requirements.
TAGS: American Dollar Forecasts Australian Dollar Forecasts Daily Currency Updates Dollar Pound Forecasts Euro Forecasts Euro Pound Forecasts New Zealand Dollar Forecasts Pound Australian Dollar Forecasts Pound Dollar Forecasts Pound New Zealand Dollar Forecasts Pound Sterling Forecasts
Comments are currrently disabled
Related Stories:
Latest News:
Daily Market Updates
Major Currency Forecasts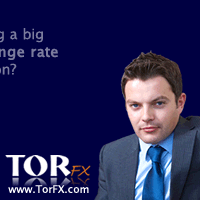 Currency Pairs