Pound To US Dollar Exchange Rate At Risk Due To Weak Global Data
13 Aug 2012 at 9 AM - Written by John Cameron
STORY LINK Pound To US Dollar Exchange Rate At Risk Due To Weak Global Data
Thin trading volumes during last week's session in the currency markets led to relatively limited price action for the world's major tenders. August is traditionally a slow month, but with much of the movement for major pairs in recent months having been driven by a series of comments from central bankers and European policymakers and by a seemingly endless succession of fruitless eurozone debt summits, this August is proving exceptionally quiet. With the politicians enjoying a barely-earned break, the wild swings in risk sentiment which typified the first half of 2012 seem a long way off.
Investors' focus in recent sessions has been diverted from mainland Europe's rumbling debt saga onto global data releases. Friday's session provided further compelling evidence that economic activity is slowing in almost every corner of the gworld economy. The Reserve Bank of Australia's minutes of its most recent board meeting, released in the early hours of Friday morning, carried the same downbeat tone to which market participants have become accustomed over the past two years. Within two hours of their release, China published trade figures which provided further cause for concern. The numbers for last month showed a minimal annualised increase in Chinese exports of 1.0% - significantly less than the 8.0% anticipated. China's counterpart import data for July also disappointed, hinted that activity in the giant Asian economy is slowly grinding to a halt. The final data release of note last week came in the shape of the latest Canadian employment data, which revealed a surprise uptick in the North American state's level of unemployment.
All-in-all there are plenty of reasons for negativity regarding the prospects for any tentative global recovery. This gives the potential for one outcome above all others – heavy support for the safe-haven US Dollar. Cable closed at 1.5669 on Friday, but has traded down into the 1.52s in the last couple of months. A move back down to these levels looks possible in the near-term, particularly if the bad news keeps rolling in.
Buying Property Abroad? Ask our resident FX expert a money transfer question or try John's new, free, no-obligation personal service! ,where he helps every step of the way, ensuring you get the best exchange rates on your currency requirements.
TAGS: American Dollar Forecasts Daily Currency Updates Dollar Pound Forecasts Pound Dollar Forecasts Pound Sterling Forecasts
Comments are currrently disabled
Related Stories:
Latest News:
Daily Market Updates
Major Currency Forecasts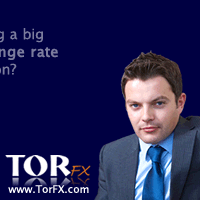 Currency Pairs