Pound Dollar Exchange Rate Poised To Accumulate Ahead Of Today's Michigan Sentiment Survey
17 Aug 2012 at 10 AM - Written by David Woodsmith
STORY LINK Pound Dollar Exchange Rate Poised To Accumulate Ahead Of Today's Michigan Sentiment Survey
Global share markets continue to confound conventional wisdom and are once again trading up on the day. A brief glance at global economic data releases in recent weeks, combined with the ever-present threat of a eurozone debt meltdown, would suggest that the world's equity markets should be heading southwards, particularly given the fact that August is traditionally the quietest month of the year. Resilient share markets spell one thing moving forward – a weakening off of the safe haven US Dollar. This week's price action for GBP USD has confirmed this, with the pair touching 1.5738 during the overnight session.
Today's primary risk events of note come from North America, in the form of the latest Canadian CPI inflation numbers, followed by the closely-monitored Michigan Confidence survey in the US. If these leading indicators provide evidence that economic activity in this key region is slowing, then Cable could be heading higher in the near term.
Elsewhere, emerging nation Brazil has announced plans to indulge in a Keynesian-style demand expansion scheme, which will see over US$60bn spent over the next quarter of a century on the country's infrastructure, including new railways and roads. Such a deviation from 'sound money' would have played extremely badly with institutional investors when the credit crisis first broke in 2007. However, the market's attitude towards government spending and growth has altered significantly in the past year, as economists issued stern warnings about the danger of the world economy slipping into a deep depression. The move by Brazilian policy-makers is likely to cause a further improvement in risk sentiment in the short term.
Buying Property Abroad? Ask our resident FX expert a money transfer question or try John's new, free, no-obligation personal service! ,where he helps every step of the way, ensuring you get the best exchange rates on your currency requirements.
TAGS: American Dollar Forecasts Daily Currency Updates Dollar Pound Forecasts Pound Dollar Forecasts Pound Sterling Forecasts
Comments are currrently disabled
Related Stories:
Latest News:
Daily Market Updates
Major Currency Forecasts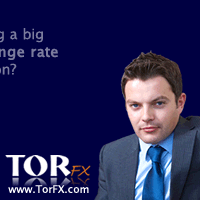 Currency Pairs