Pound to US Dollar Predictions: Could GBP/USD Exchange Rate Weaken on Stronger US Currency?
July 22, 2014 - Written by John Cameron
STORY LINK Pound to US Dollar Predictions: Could GBP/USD Exchange Rate Weaken on Stronger US Currency?
Currency News UK - Pound to Dollar Predictions: will cable tumble into the 1.5000's? Big news stories dominated last week's session, with the shooting down of Malaysia Airlines flight MH17 and the international reaction to it, along with the ongoing situation in Iraq and an escalation of violence in Gaza. The latest GBP USD exchange rate today trades at 1.70359 (23/07/2014 19:00 GMT).
In amongst all of these risk events came a set of interesting comments from US Federal Reserve Chair Janet Yellen which could prove to have a marked effect on the relative value of the US Dollar (USD) during coming months.
- The pound to australian dollar exchange rate is -0.8 per cent lower at 1.80304, with a 7 day range of 1.8172-1.8301
- The pound to euro exchange rate is -0.14 per cent lower at 1.26532, with a 7 day range of 1.2626-1.2673
- The pound to dollar exchange rate is -0.16 per cent lower at 1.70359, with a 7 day range of 1.7067-1.714
During her testimony to the US Congress on Wednesday afternoon, the US central bank chief dropped heavy hints that a tightening of domestic monetary policy might be on the cards sooner rather than later.
Previously Yellen has maintained that the next increase in domestic interest rates remained a long way off and that the Fed would be maintaining its accommodative policy stance into the medium term in spite of an apparent improvement in the US labour market since the turn of the year.
However, the first week of this month brought the publication of another strong set of employment figures, which showed that over 200,000 new positions had been added to the US payroll for the fifth month on the trot during June. The highly encouraging numbers have apparently caused Yellen to carry out a re-think on the future direction of Fed policy which leads to a pronounced bout of back-pedalling during her appearance on Capitol Hill last week.
The Fed Chief stated that, 'if the labour market continues to improve more quickly than anticipated, then increases in the federal funds rate likely would occur sooner and be more rapid than currently envisioned.' When you run the numbers, it appears that the American jobs situation is indeed improving at a rapid rate of knots, with the overall level of unemployment dipping from a heady 10% during the final quarter of 2009 to touch 6.1% last month.
Yellen's admission that she, and her colleagues at the Fed, had misjudged the rate at which domestic labour market conditions would improve, look likely to cause a rapid Quantitative Tightening following years of Quantitative Easing.
Forecast: What's predicted for the Pound Sterling and US Dollar Exchange rates in 2014?
Several leading analysts certainly feel that the Fed may have prolonged its period of QE for longer than was healthy for the US economy; Jens Nordvig of Nomura concurs with this viewpoint, observing that, 'they may have left it too late again: the risk is a reckoning point when rates rise abruptly.' The implication is that successive and pronounced increases in US interest rates will stall the American recovery.
A secondary effect of such a move would see the US Dollar (curerncy:USD) strongly supported.
Consecutive closes below the psychologically-key 1.7000 threshold would send out a strong negative indicator for the Pound to Dollar (GBP/USD) exchange rate. In such a circumstance, analysts forecast that the pair would drop back into the 1.5000s sooner rather than later.
International Money Transfer? Ask our resident FX expert a money transfer question or try John's new, free, no-obligation personal service! ,where he helps every step of the way, ensuring you get the best exchange rates on your currency requirements.
TAGS: American Dollar Forecasts Daily Currency Updates Dollar Pound Forecasts Pound Dollar Forecasts Pound Sterling Forecasts
Comments are currrently disabled
Related Stories:
Latest News:
Daily Market Updates
Major Currency Forecasts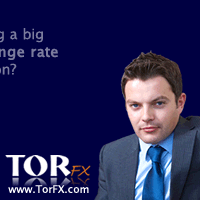 Currency Pairs