Foreign Exchange Rates : Currency Predictions - GBP, USD, EUR, AUD
July 26, 2011 - Written by John Cameron
STORY LINK Foreign Exchange Rates : Currency Predictions - GBP, USD, EUR, AUD
POUND STERLING
The Pound suffered in opening trade this morning falling to a daily low against most majors ahead of the UK Q2 GDP release. The figure was announced as expected and the Pound recovered to close relatively flat on the day. The GDP figures reinforce the outlook that UK interest rates are unlikely to change in the short term. They also represent a possibility of a fresh round of quantitative easing as the BoE attempt to try and spark some form of momentum into the current anaemic economic recovery. We would expect the pound to continue to suffer in the short term.
NEAR-TERM OUTLOOK – NEUTRAL - NEGATIVE
US DOLLAR – The Pound Dollar exchange rate (GBP/USD) is 1.6393
The USD has been sold aggressively in trade today breaking through 1.64 temporarily this afternoon. The pressure on the Dollar looks set to continue as the August 2nd deadline for raising the US debt ceiling looms. The current debt limit sits at $14.3 trillion, if no resolution can be reached for an extension the rating agencies will be forced to downgrade he US AAA status and a shockwave would hit the market on fears that the world's largest economy could default and no longer settle its bills.
NEAR-TERM OUTLOOK – NEUTRAL TO NEGATIVE.
EURO – The Pound Euro exchange rate (GBP/EUR) is 1.1299
The Euro has held position above 1.45 (EUR/USD) at the close today and looks set to trend back to 1.1250 (GBP/EUR). The Euro holds a position of remarkable strength against the Pound and the Dollar considering recent sovereign debt contagion concerns. The planned rescue package has returned some confidence to the markets in the short term despite some ongoing serious issues associated with the escalating debt crisis. Short term we would argue that it's position of strength is unlikely to hold on a longer term view.
NEAR-TERM OUTLOOK – NEUTRAL TO NEGATIVE
AUSTRALIAN DOLLAR – The Pound Australian Dollar exchange rate (GBP/AUD) is 1.4967
The Australian Dollar has advanced in trade today reaching a record high against the USD whilst trading and closing back under 1.50 against the pound. Comments from Central bank Governor Glenn Stevens imply a more upbeat outlook for the Australian economy indicating that household spending is likely to improve as consumer confidence returns.
NEAR-TERM OUTLOOK - POSITIVE
International Money Transfer? Ask our resident FX expert a money transfer question or try John's new, free, no-obligation personal service! ,where he helps every step of the way, ensuring you get the best exchange rates on your currency requirements.
TAGS: Australian Dollar Forecasts Currency Predictions Euro Forecasts Pound Australian Dollar Forecasts Pound Dollar Forecasts Pound Euro Forecasts Pound Sterling Forecasts
Comments are currrently disabled
Related Stories:
Latest News:
Daily Market Updates
Major Currency Forecasts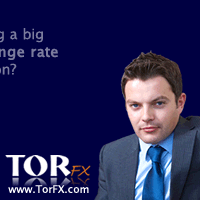 Currency Pairs