Pound Sterling vs Euro Up 0.7%, EUR Suffering After ECB Cut Interest Rates to 0.75%
5 Jul 2012 at 4 PM - Written by Frank Davies
STORY LINK Pound Sterling vs Euro Up 0.7%, EUR Suffering After ECB Cut Interest Rates to 0.75%
The Euro has fallen sharply against a basket of currencies after the European Central Bank confirmed investors belief that it would cut interest rates. The Bank has cut the main interest rate to a record low of 0.75% and also reduced its deposit rate to zero in an effort to tackle the ongoing euro zone crisis.
Most observers had been expecting the interest rate cut but were taken by surprise by the deposit rate cut. The rate cut was implemented in an effort to encourage the regions banks to lend to one another.
In the UK the Bank of England announced that it would-be pumping an extra £50billion into the country's flagging economy. The money is to be introduced over a four month period under the third stage of the banks Quantitative easing programme. The Bank also said that it is leaving UK interest rates at the record low of 0.5%. The interest rate hasn't changed for more than three years in a bid to encourage spending.
The BOE claimed that without further QE there was a possibility that inflation would fall below its target of 2%. Sterling managed to cut its losses against the Dollar and rose to a new five week high against the Euro after the markets expressed their relief that the BOE had resisted the urge to inject more than £50 billion. There had been rumours that the Bank was considering a figure of £75 billion.
Sterling rose to $1.5601 from around $1.5570 before the BoE announcement, still below this week's high of $1.5723. The Euro suffered heavy losses against most of its peers. Currently the Euro is trading in the region of 0.797 against the Pound and 1.236 against the US Dollar a drop of 1.21%.
Buying Property Abroad? Ask our resident FX expert a money transfer question or try John's new, free, no-obligation personal service! ,where he helps every step of the way, ensuring you get the best exchange rates on your currency requirements.
TAGS: American Dollar Forecasts Daily Currency Updates Dollar Pound Forecasts Euro Forecasts Euro Pound Forecasts Pound Dollar Forecasts Pound Euro Forecasts
Comments are currrently disabled
Related Stories:
Latest News:
Daily Market Updates
Major Currency Forecasts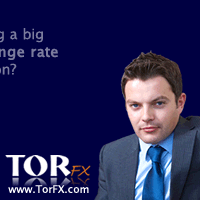 Currency Pairs