Pound US Dollar Exchange Rate (GBP USD) Falls To New 6-Month Low On Weak German And French GDP Data
February 14, 2013 - Written by Tim Boyer
STORY LINK Pound US Dollar Exchange Rate (GBP USD) Falls To New 6-Month Low On Weak German And French GDP Data
The Pound has started the day on the front foot against the euro thanks to disappointing GDP data from Germany and France. The official growth figures showed that activity in both nations during the final quarter of 2012 had slowed down in comparison to teh preceeding quarter.
Germany's growth figure was particularly disappointing, showing that activity in Europe's leading economy had shrunk by a quarterly 0.6% in Q4 – this is a significantly greater contraction than the UK's counterpart number of -0.3%. The figure was below the -0.5% showing which analysts had been anticipating. The French GDP number was similarly underwhelming, revealing that France's under-pressure economy shrank by 0.3% in the final three months of 2012.
Sterling briefly climbed above 1.1600 against the euro in the aftermath of the releases, having started the day trading in the low 1.15s. The reversal which has followed the publication of the figures suggests that, providing tomorrow morning's UK Retail Sales data for last month don't disappoint, then the Pound euro exchange rate (currency : GBP EUR) has the potential to edge up towards the 1.1800s where it started this week, before Friday's market close.
Elsewhere, last night's Asian session brought the release of further disappointing data from the Far East, this time in the form of downbeat Japanese growth numbers which revealed that Japan's domestic economy had contracted for the third quarter on the trot.
All of the above risk events have the potential to provoke renewed support for the safe-haven US Dollar, as institutional investors price-in a reduced chance that the global economy will start moving forward again anytime soon. The Pound US Dollar exchange rate tumbled to its lowest level since the start of last August during early trading today. There could be more downside to follow for the pair if risk appetite remains subdued when New York opens this afternoon.
International Money Transfer? Ask our resident FX expert a money transfer question or try John's new, free, no-obligation personal service! ,where he helps every step of the way, ensuring you get the best exchange rates on your currency requirements.
TAGS: American Dollar Forecasts Daily Currency Updates Dollar Pound Forecasts Euro Forecasts Euro Pound Forecasts Pound Dollar Forecasts Pound Euro Forecasts Pound Hong Kong Dollar Forecasts Pound Sterling Forecasts
Comments are currrently disabled
Related Stories:
Latest News:
Daily Market Updates
Major Currency Forecasts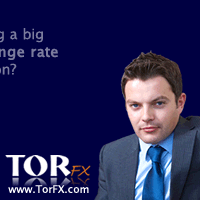 Currency Pairs